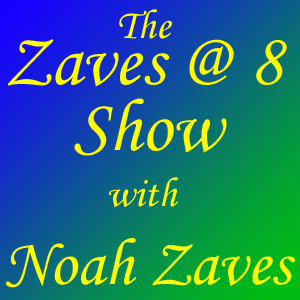 The Zaves @ 8 Show: Your New-World Mix of Talk, Music, and Special Guests
We no longer broadcast live, but you can access all of our previous live shows for free using the following instructions:
Option 1: Search "Noah Zaves" in the iTunes store, then click "subscribe" (it's totally free). If your computer has iTunes, click here to view the page.
Option 2: If you have your own RSS reader, like Firefox or Internet Explorer, then copy and paste the following feed: http://www.noahzaves.com/podcast/rss.xml
Links to notable guests and their work:
Fashion Designer Jayme Cyk: Check out her innovative work in this month's Teen Vogue, and visit her fashion blog: www.cykicfashion.blogspot.com
Environmental Acivist Kimberley Schroder: Kimberley asked that we share the following links with you - To find out about actions going on now in the US, click here. To find out about Thursday's climate justice fast, click here. To find out more about sexual justice as how it relates to climate change, click here.
Please note: All previous shows are happily available by request! Just drop us a line and tell us what week or show number you're looking for.